Kit 236
V8 CONVERSION KIT to adapt:
Land Rover V8 engines – 3.5 & 3.9 Classic RR and Discovery, 4.0 & 4.6 P38 and Discovery II to
4 cylinder gearboxes Series II & III, LT77 in 90, 110, 127. LT77 in Defender 90, 110 & 130 200 Tdi &
R380 in Defender 90, 110 &130 300 Tdi
Series 1 and 6 cylinder versions also available as special order only.
Standard kit will comprise of:
Adapter ring, Spigot bush adapter with bush with all fixings.
Standard kit as shown in picture below: £595 + VAT
Optional kits:
Mounting feet kit plus fixings: £98 + VAT (currently only series III brackets available.)
Oil filter adapter kit comprising gaskets and fixings: £232 + VAT
Lower blank plate kit: £65 + VAT (Note: Standard LR plate FRC2859 can be fitted if holes are drilled to 8.5mm)
Standard Kit: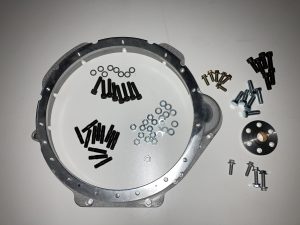 Mounting Feet: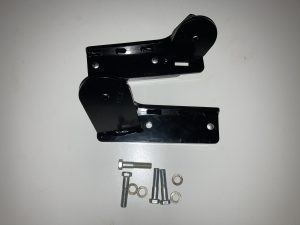 Oil Filter Adaptor: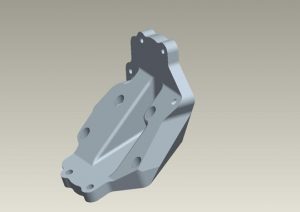 Kit 237
KIT TO ADAPT 6 SPEED MT82 GETRAG GEARBOX
(FITTED TO 2007 ON DEFENDER Tdci)
TO LAND ROVER V8 ENGINE
The kit comprises of 3 adapter plates to adapt the 6 speed gearbox to the V8 cylinder block. A flywheel adapter, spigot bearing, flywheel and all hardware are supplied in the kit. The flywheel will accept the standard clutch as used in the 2007MY on Defender Tdci.
Kit price: £1295 + VAT (Complete with new Tdci flywheel)
Kit price: £1145 + VAT (Less new Tdci flywheel, if existing Tdci flywheel can be used)
Please note that VAT is NOT payable outside the EU or if you are VAT registered outside the UK.
Note:-
When the above kit is fitted instead of the 2.4 or 2.2 Ford engine in the Tdci Defender the V8 engine will sit 38mm further forward compared to a standard Defender V8 installation.
Kit 237:

Kit 237A
KIT TO MOUNT THE V8 LAND ROVER ENGINE TO THE STANDARD PUMA Tdci
ENGINE CHASSIS BRACKETS WHEN USING
THE MOTOR & DIESEL V8 TO 6 SPEED ADAPTION KIT 237.
The kit comprises of bolt on additional chassis brackets, mounting rubbers, engine mounting brackets and all hardware for both right & left hand side of the engine.
PRICE: £239 + VAT