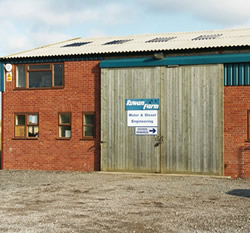 We started trading in Bourn, Cambridgeshire in 1974 moving to our current site in Ruskington, Lincolnshire in 2001 where we have a modern workshop and parts warehouse on a two acre site.
David Jackson, founder and Managing Director, has developed extensive expertise in the development of drive lines (engine and transmissions, manual and automatic) for Land Rover and other vehicles, mainly 4 x 4's.
At M&D we take pride in the thoroughness of our engineering work and in our ability to offer our customers sound advice on correct engine and/or transmission selection for any given project.
Quality is the philosophy in all the products and services that M&D provide.
What we do
Motor and Diesel Engineering offer the following services.
Applications Engineering
Development of drive lines (engine and transmissions, manual and automatic) for Land Rover and other vehicles, mostly 4×4.
Engines and Transmissions
Sales of new high speed diesel engines, our most popular ones are listed below,
Land Rover '300' Tdi turnkey and stripped.
MWM HS 2.5L and 2.8L turnkey.
MWM NGD 3.0L common rail injection turnkey.
MWM Maxxforce 3.2 common rail injection turnkey.
Land Rover 2.4 Tdci turnkey and stripped
Sales of new automatic transmissions including 5 speed electronic auto conversion for the Defender Tdci 2007 on with 600Nm capability.
Re-power conversion kits
Sales of quality repower conversion kits with or without engines to enable non- standard engines to be fitted to vehicles and non standard gearboxes to engines, mainly Land Rover vehicles.
Defender 90, 110 & 130 1982 to 2014
Discovery 1989 to 2004
Range Rover 1970 to 2002
Series 1, 2 & 3
Power improvement kits
Sales of power improvement kits for Land Rover vehicles
Variable geometry turbocharger (VNT–TGV) kit for 300 Tdi Defender, Discovery and Range Rover Classic.
Kit to convert the standard Land Rover 300 Tdi 2.5L to 2.8L
Parts
Sales of engine parts, we are the UK distributor for MWM engines and parts and can offer genuine parts for the Land Rover 300 Tdi. The 300 Tdi engine was manufactured by MWM International in Brazil from 1997 to 2006 for Land Rover.
We offer a full range of parts for the following engines
Land Rover '300' Tdi
Land Rover 2.4 Tdci
MWM International HS 2.5L, 2.8L
MWM NGD 3.0L
MWM Maxxforce 3.2
Mazda HA 3.0L and SL 3.5L
Perkins 4.182 and 6.247