Here at Motor & Diesel were proud to announce that we've started undertaking Defender galvanised chassis replacements. With over 40 years experience working with Land Rovers including: engine rebuilds, transmission rebuilds, transmission changes, engine performance tuning, gearbox adaption parts but mainly specialising in engine conversions, you can be assured that a chassis replacement is no big task for us!

If you're after a special drive train build, that's no problem, we offer all sorts of engine to gearbox combinations for Defender including an adaption kit for the Td5 and 300Tdi to the Puma 6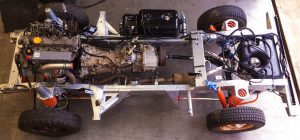 speed gearbox. Also if you are after a special underneath to your Land Rover such as twin fuel tanks we can deal with this too.
With our galvanised chassis replacements there are some essential parts that we replace as part of the chassis price. These are: All hardware (any nut or bolt that's had to be removed in the chassis replacement), galvanised front shock absorber turrets, any brake pipe or brake hose that fails quality inspection and front and rear bump stops.
There may be other parts you wish to replace during the chassis replacement, these can include: All suspension bushes and rubbers, fuel tank (metal tanks), clutch and other servicing. We can give you an accurate quote for any parts you with to replace if you contact us.
Prices for extending the life of your Land Rover varies from car to car. Each one has had their own purpose in life so some may be easier to change than others. When the chassis replacement is underway it will be clear which parts will need replacing. However if you see us first with your Land Rover we can do an initial inspection to see which parts will need changing. The majority of our chassis are from JE Marsland, these are made with Land Rovers original equipment, therefore they are effectively a genuine chassis galvanised. But if you'd prefer a Richards one we can do this too.
Chassis prices: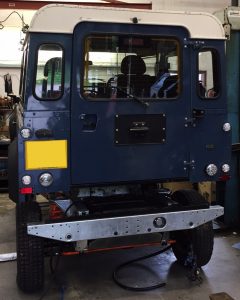 Including parts mentioned above:
All 90″ Defender: £2150 + VAT

All 110″ Defender: £2550 + VAT
All 130″ Defender: £2850 + VAT
Labour rate: This is a base price and will increase if you want additional parts to be replaced and any other servicing required:
All 90″ Defender: £1850 + VAT
All 110″ Defender: £1950 + VAT
All 130″ Defender: £2050 + VAT
We do not stock galvanised chassis, so please be aware there can be  6 to 8 week lead time from a confirmed order for delivery of your chassis to our works. However we can buy chassis from elsewhere with only two days lead time to delivery. This will incur an add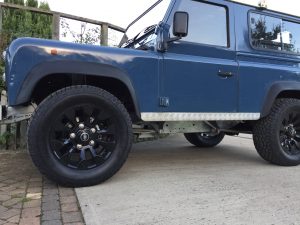 itional charge of £250 + VAT.